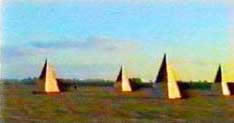 MEDITATION IS THE RELAXATION TREATMENT.
Mental Health Care Center uses the different methods of meditation for relaxation of mind, physical body and for treatment of mental illnesses.
Very often we use the energy of Pyramids and Matrixs for meditation, healing, massage, accupuncture and Reiki
Why we selected those pyramids and matrics?
Energy of mini pyramids and matrixs by A. Golod help:
1.Increase ability to vizualize;
2.Raise EEG Alpha Waves;
3.Heal the many mental disorders and many diseases;
4.Increase the memory power.